PEKİ CHATBOT
CHATBOT SERVICE
Enjoy Artificial Intelligence with Smart Chatbot Peki! Peki Chatbot, which is rule-based, ready to use, and driven by artificial intelligence, you can provide your customers a special experience.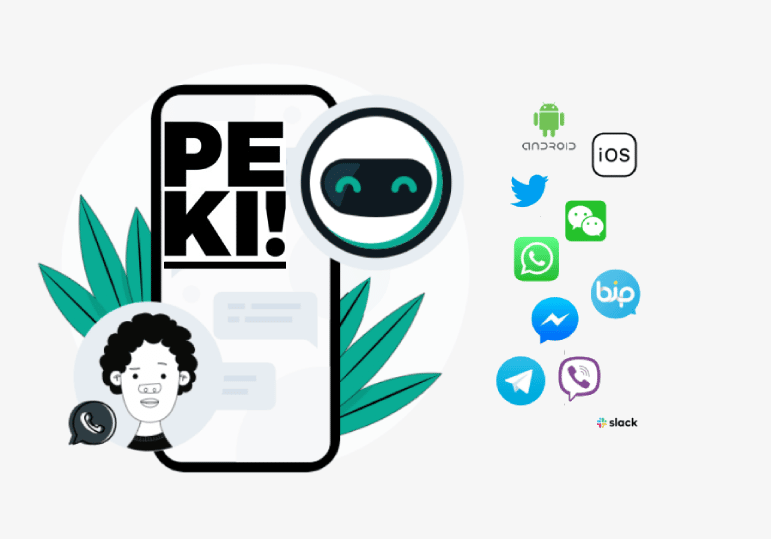 Thanks to the live chat interface, your agents can continue their conversation from the live chat interface on Peki without interrupting the correspondence, in the section you want the chatbot to transfer to the agent about the parts that are insufficient or not trained.
Peki has a store which involves integrations to 3rd party apps and also has access to ready-made bots. You can easily integrate your bot into any 3rd party application via this store.
You can access comprehensive reports on the use of the bot through the analytics tab, where you can access all the basic data about chatbot and live chat.
PEKİ CHATBOT
PACKAGE FEATURES
PEKİ CHATBOT
ALGORITHM SYSTEM
PEKİ CHATBOT
USAGE SCENARIOS
RESERVATION
Making reservations for a hotel, an airline, a bus, etc. buying tickets, checking in, using an electronic ticket, sharing information with a travel assistant during the entire process, changing or canceling tickets, etc.
MOBILE BANKING
Bill payment, money transfer, fast payment, collection bots for social media shopping, statement inquiry thanks to secure login.
CUSTOMER SERVICE
Opening a service case, after-sales support, frequently asked questions, and rapid response to inquiries are all examples of customer service and help desk functions.
TECMONY
OUR OTHER PRODUCTS