VOIP ROUTER
Communication Between Different Operations and Locations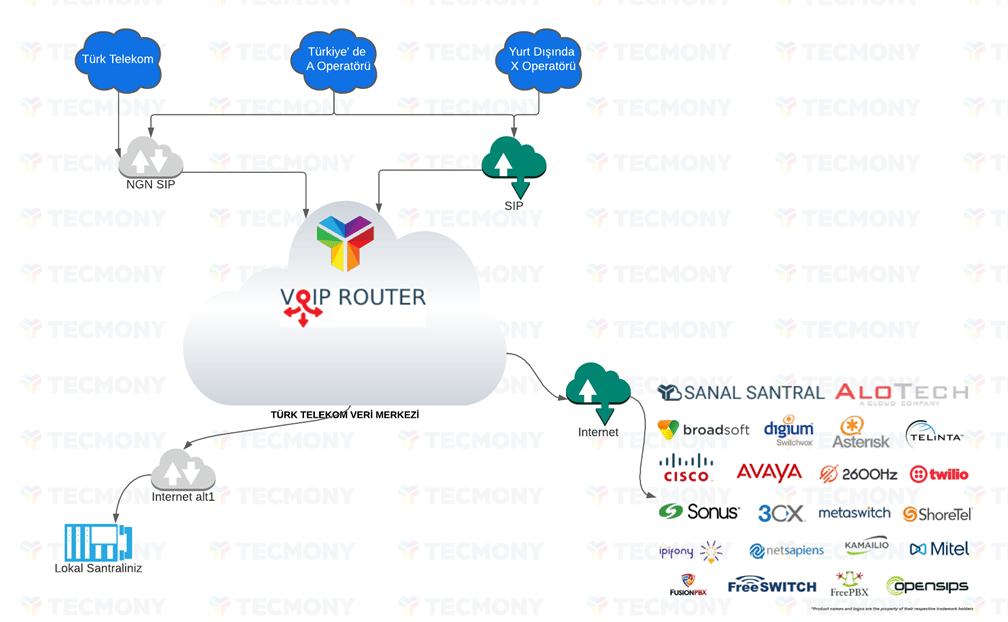 With the Voip IP Routing service, we offer you the opportunity to handle your calls in a variety of ways. Instead of downloading your Türk Telekom lines to your location, you can terminate them at Türk Telekom Esenyurt Data Center and transfer them to any point without making any additional investments.
Sample Usage Scenarios
You can terminate your number 444 XX YY at Türk Telekom Cloud without having to terminate it at your location..


Where can you send the call?


You can send it to your local switchboard.
You can send it to your cloud switchboard.

What advantages does it have?


You will have 24/7 uninterrupted connection. You will not be faced with any interruptions as a result of excavations, power outages or faulty operations.
The disadvantages of your location, the lack of ports, all technical infrastructure problems that will cause disruption in the system do not affect you. You can receive your calls without any interruption from anywhere you can access the Internet or make a point-to-point connection.
You are no longer location dependent. You can end the call wherever you want according to the rules you want.
On a single system, you may specify various phone numbers in several cities and transmit them to your switchboards in the appropriate location.


Example: You can define your Ankara, Istanbul, Izmir numbers on a single interconnection. In case you fail to answer a call in Izmir, you can send the call to the offices in Istanbul or Ankara.

You can carry out specifically defined operations.


When you want to define the TCKN information in the call and send it as a variable to the system you will connect to later, we can configure and send it according to the switchboard to be terminated. Thus, while transferring an information that has already been entered in the IVR or interpreted the CRM to the swithcboard at another point, we can provide a transformation in a structure that will be understood by the switchboard that will handle the call by including the relevant additional information in the call package.

It becomes possible to convert the call in the form understood by the Cloud switchboard.
You can collect your numbers from different operators and different countries on a single source and distribute them to the switchboard systems by the rules.
Thanks to VOIP IP ROUTING, you can use the technology much more effectively, much more independently and at a very affordable price.
TECMONY
OUR OTHER PRODUCTS