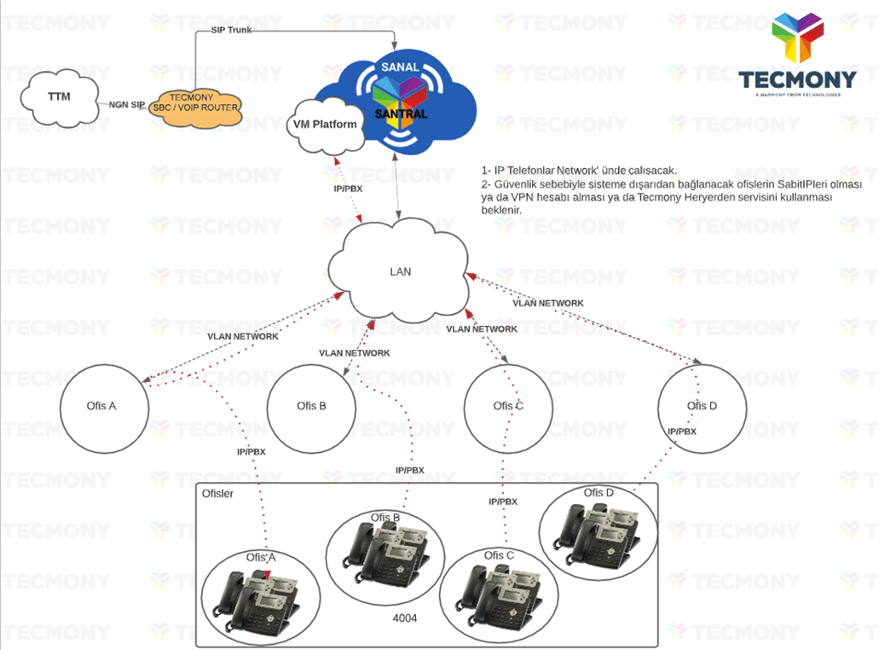 VIRTUAL SWITCHBOARD SOLUTIONS
VOICE RECORDING FUNCTIONS
VIRTUAL SWITCHBOARD SOLUTION
GENERAL DETAILS
These service fees include definitions in the cloud system, software, license, maintenance, telephone and email technical support fees, and exclude the hardware to be used (IP Phones, headsets, modems, routers, switches and similar devices when necessary) and data access fees.
The approximate number of simultaneous call capacities by connection type:
ADSL for up to 3 simultaneous calls,
G.SHDSL up to 10 simultaneous calls (Bandwidth is calculated according to the number of calls),
Fiber for more than ten calls at once (Bandwidth is calculated according to the number of calls) Streaming videos has an impact on the sound quality, while downloading files affects the line capacity. The Company is accountable for avoiding such usage.
The customer may install and maintain a SIP-compatible phone thmselves if they wish to use one. All functionalities may not be supported by the customers' preferred phones, this is their responsibility. The client is responsible for providing the network equipment (Switch, router, firewall, and modem) and data and energy cabling for the phones.
The SIP access time should be less than 100 msec when phones and agents are enrolled to the TT Cloud system. When it gets beyond this limit, there may be issues with the sound and status (performance issues caused by the customer's internet line or the router/modem/computer they use). The assessment used by Tecmony is used on how well problems are resolved.
Virtual Switchboard Solutions
FIRST RESPONSE TIMES TO THE SYSTEM DURING A FAILURE
Subject Importance (Critical)
| | |
| --- | --- |
| Description | All main services are down |
| First Notification | 15 Minutes |
| Work Start Time | 30 Minutes |
| Work End Time | 12 Hours |
| Time Interval | 7 Days 24 Hours |
| Target | % 99 |
Subject Importance (High)
| | |
| --- | --- |
| Description | Although one or more of the key functions are not working, the main services are still operating. |
| First Notification | 30 Minutes |
| Work Start Time | 2 Hours |
| Work End Time | 24 Hours |
| Time Interval | 7 Days 24 Hours |
| Target | % 95 |
Subject Importance (Medium)
| | |
| --- | --- |
| Description | Although one or more of the key functions are not working, the main services are still operating. |
| First Notification | 2 Hours |
| Work Start Time | 8 Hours |
| Work End Time | 48 Hours |
| Time Interval | 5 Days 12 Hours |
| Target | % 80 |
| | |
| --- | --- |
| Description | All services are operational, and requests for non-critical sub-services are being received. |
| First Notificiation | 8 Hours |
| Work Start Time | 24 Hours |
| Work End Time | 1 Week |
| Time Interval | 5 Days 8 Hours |
| Target | % 80 |
TECMONY
OUR OTHER PRODUCTS